產品發表 – New G.SHDSL.bis EFM/ATM P2MP Comet 1600F & Comet 1600FM series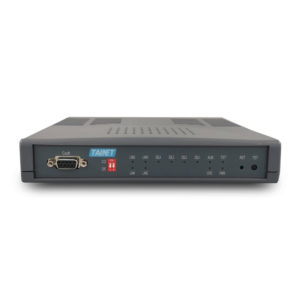 TAINET Communication System is announcing new G.SHDSL.bis EFM/ATM designed for an advanced capability. Featuring built in K.21 surge protection. It is ideal for Community (police/fire/education), utility factory and business Ethernet services, etc.

TAINET's Comet 160xF and 160xFM EFM/ATM series is the so-called Ethernet Access Devices (EAD), Ethernet Media Data Converter (MDC) or Ethernet DSL Bridge/ Router/ Modem, which takes advantage of the latest G.SHDSL.bis standard. This mini-terminal enables the transport of traffic from Ethernet interface with speed of 15M/30/60 Mbps over EFM bonded 2/4/8 wires G.SHDSL.bis link.
Point to Multi-point – High Speed 1~4 pairs G.SHDSL Point to Multi-point Application

Party Line, Linear, Group – High speed 1~4 pairs G.SHDSL Party Line, Linear application

Comet 160xF and 160xFM EFM/ATM series supports high-speed dedicated symmetrical data transmission and utilizes DSL bandwidth. The automatic line rate adjusting can be up to 15Mbps over 2-wire copper line symmetrically. Comet 160xF and Comet 160xFM series typically works as an Ethernet extender, with up to 8wires that could enhance the line rate and provide aggregated bandwidth up to 60Mbps.Furthermore, Comet 160xF and 160xFM EFM/ATM series is fully compatible with TAINET iEAC-16, the intelligent Ethernet access chassis. This combination is designed to work as a central office especially for long distance Ethernet Access Service. It covers the ADSL/VDSL's disadvantages of distancelimitation by offering multi-pair bonding services.
Comet 160xF and 160xFM EFM/ATM series is an ideal solution for Telecom Carriers, Service Providers and business users. In order to reduce operation/management burden, based on ITU-T recommendation G.991.2 standards, Comet 160xF and Comet 160xFM EFM/ATM series can control and monitors its remote units via the Embedded Operation Channel (EOC). Administrators of Comet 160xF and Comet 160xFM EFM/ATM series are entitled to configure the modems through DIP-Switch, Console, Telnet (SSH), Web (HTTP/HTTPS), TR-069 or SNMP v1/v2c/v3 agent with ease.
RS232 over IP – High speed 1~4 pairs G.SHDSL RFC2217 Serial Port over IP application

Ring Protection Application – High speed 1~4 pairs G.SHDSL G.8032 Ring application

Get more details for Comet 1600F Series
Get more details for Comet 1600FM Series
Why choose Tainet?
Tainet Communication System Corp. has been connecting the world since 1990 with data and voice communications products and solutions that allow businesses to be more productive than ever. Our solutions serve the small and medium business, enterprises, government utilities, infrastructures markets and so on. We have been recognized throughout the world for their quality, reliability and innovation. The core of TAINET is comprised of a skilled and experienced engineering team, which enables us to deliver the extended technology solution from Voice communication, legacy TDM modem, multiplexers, to Ethernet-based and fiber access, while still remaining top quality, flexibility, yet cost-efficient products for all customers across a broad spectrum of applications.
Tainet Contact
E-mail: sales@tainet.net
Contact No.: +886 2 2658 3000